Shane Ave – a Journey to Freedom of Expression
Shane Ave was born out of a need to provide formal fashion that blurs traditional lines of gender divisions. There has been a very big hole in the market for too long. Our Founder Deb Saywell recognised the hole in the market and set out to fill it with a brand and company that allows all queers to feel confident, validated and understood. We want everyone to feel safe to take a journey down Shane Ave in the knowledge that this is your journey, your style and your opportunity to be free to validate and affirm your own identity with confidence and freedom.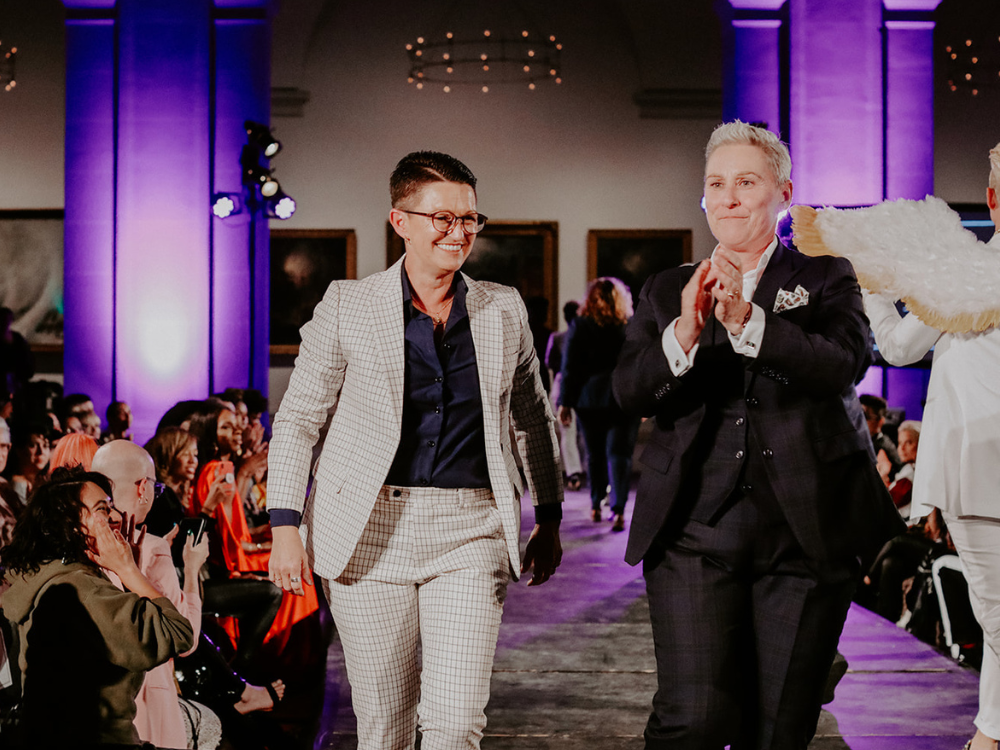 Our Philosophy
A Shane Ave. Masterpiece is a self-portrait of you and your identity. A Shane Ave. Masterpiece that affirms you have the freedom to choose without gender binary. A Shane Ave. Masterpiece that is made just for you!
Our Vision
To see people dress with confidence, feel comfortable in their choice of clothing and expression of themselves. To provide a safe environment for our clients to validate themselves without judgement.
Our Mission
To provide high quality bespoke formal wear that our clients have chosen and designed to their liking. To provide a variety of fabrics and designs that allows our clients to choose colours and fashion that expresses who they are.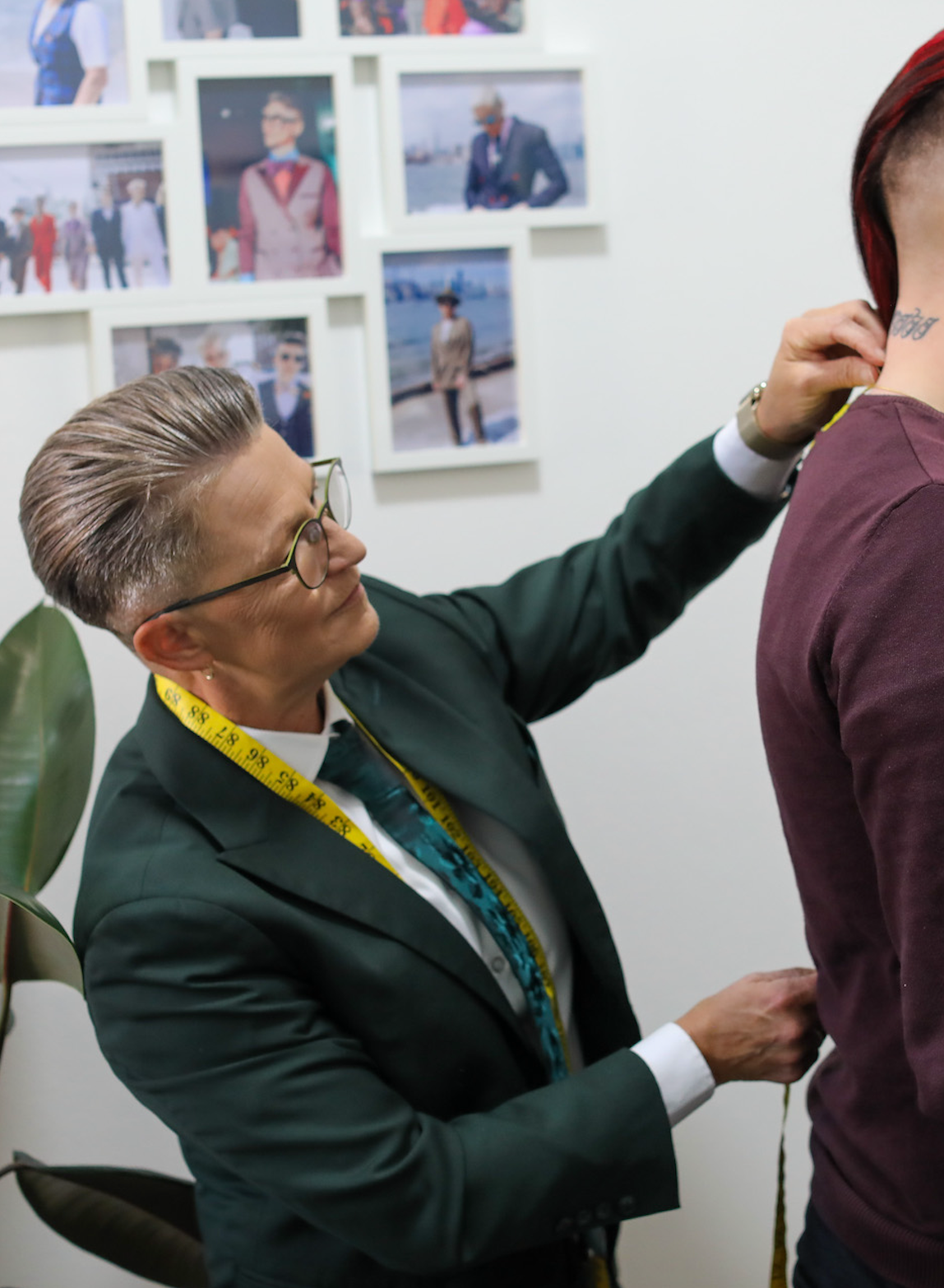 Hi, I am Deb, fellow Queer, lover of fashion, passionate about providing non gender fashion to the lgbtiq community, and owner of Shane Ave.
Shane Ave was born from my frustrations in trying to find formal fashion that blurs traditional lines of gender divisions and to fill a very big hole in the market that allows you to not only feel confident, validated and understood, but free to affirm your true identity.

For too long, this gap meant that regardless of androgynous or femme, the only options out there were ill-fitting, oversized suits and shopping experiences filled with anxiety and frustration at never being able to truly express yourself in a safe and non judgemental environment.

Shane Ave not only allows you the freedom of expression and a safe and fun experience, but we make the most incredible tailored suits of the upmost quality and personalised fit. We create pieces for weddings and special occasions as well as pieces for work and casual attire.

With your own Shane Ave piece, you will feel empowered, confident and comfortable walking out of the door for any occasion as your true and authentic self. I promise.

Love Deb
Watch Deb's interview on Studio 10
We'd love to hear from you
If you have any questions, don't hesitate to reach out and ask. We're happy to listen to and discuss any of your concerns! And if you've already worked with the Shane Ave. Team, we'd love to get feedback on your experience with us. Please use the form below and leave your thoughts with us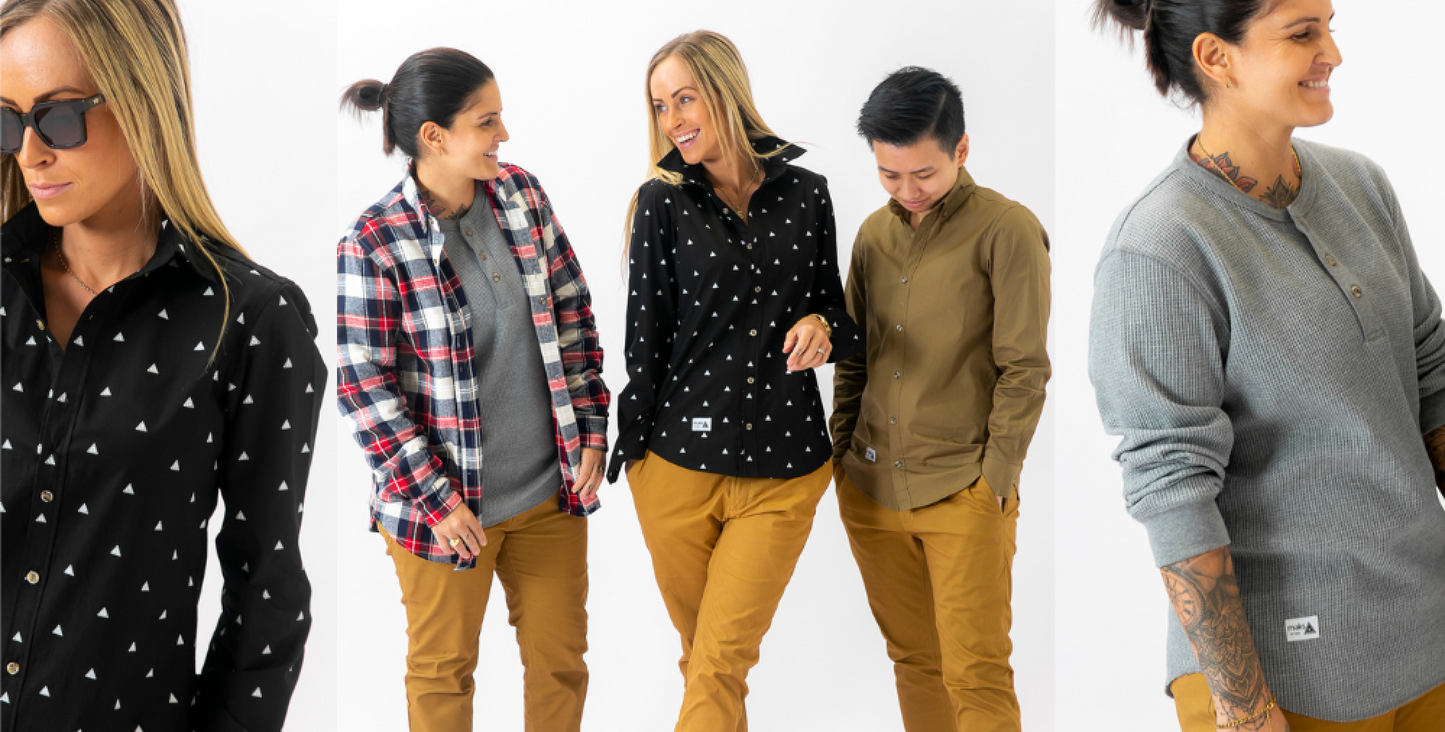 Have you heard about meks?
meks was co-founded by Deb to tackle the gap in androgynous fashion for casual, every-day clothing.
Frequently Asked Questions
We are an appointment only business, which means you have the shop totally to yourself for the duration of your consultation. If you're shy or nervous, we highly recommend bringing your friends along for support. Many people bring their friends, fly to Sydney and make a weekend out of it!

We also travel to every state in Australia 3 times per year with our pop up studios, should you not be able to get to Sydney. Click here to see when we're going to be in your city next!
We cover the design process which includes recommendations on colours and styles to suit and compliment you.

We take over 27 measurements to ensure the perfect fit.
We have over 500 colour swatches to choose from
You choose your own funky lining that brings out your personality as well as your own buttons
We have a large selection of sample suits for you to check out
We provide a safe and inclusive space for you to brainstorm with our experienced and cool humans
For a 2 piece jacket and pants, we're looking at $1399 to $2200 AUD. But it also depends on the fabric and processes.

Refer to our price guide for a more accurate estimate.
We have a large range of fabrics to choose from depending on your requirements. Such as Premium Pure Wool, Wool/Polyester Blend, Velvet and Linen.
We manufacture in Shanghai and Hong Kong using some of the best suiting and shirting factories available. Our tailors are masters at their craft and ensure the best quality that Shane Ave has become renown for.

Final alterations are handled by our tailors situated in every state of Australia and some regional areas.
Most made to measure garments will require final alterations to ensure a perfect fit. This is inclusive in the costs up to $150 and must be done within 14 days of receipt. We have tailors in every state of Australia and regional areas. If the suit cannot be tailored for the perfect fit we will happily remake it.
8 to 10 weeks, however for weddings we ask to allow 16 weeks.
At Shane Ave we cater to everyone regardless of your identity or preferred style. Androgynous is a style that flows between genders allowing you to freely express your identity without necessarily looking for a men's or women's suit. We also cater to femme styles that suit some people in our community that like to show their feminine traits.
Deb has been with her partner Sue for over 20 years and is passionate about providing a safe and inclusive environment for every queer. Deb understands the pain points that you suffer as a result of being left out of the fashion space for so long. Deb is not afraid to stand up and stick her head above the crowd to proudly proclaim that Shane Ave is a company that stands for and with the queer community. We are here for our community first but everyone is welcome should they like to take a walk down Shane Ave.
Yes! We cater for all suiting occasions. Weddings, Business, Casual just to name a few. We see your purchase as an investment in your wardrobe and will guide you on how to get the most out of your custom made suit long after the wedding or business function.
Yes, we make made to measure shirts for business and casual and we have an awesome range of Winter Coats that are made to measure.

In 2023 we also launched our casual androgynous fashion brand meks in collaboration with Charlie Boi. Click here to check out meks website!